Strong winds and hail can damage shingles or roof tiles on your home and displace them. Speedy action is necessary to prevent water damage. A durable roof will assure that you keep the rain outside where it belongs.
Top-Class Roofing Repair Resolutions
Assessing roof repairs should be handled by a professional roofer. Our team is certified to identify any issues, leak, and fixable mishaps, and then resolve them for you! Get reliable repair that you can trust by calling Top Gun Roofing.
What to Do When You Notice a Leak
Just because you have some signs of a leaking roof does not mean you need your entire roof replaced. This is why it is very important to have a trusted trained professional to do your roof inspection.
Remember, taking time to address a small issue right now will prevent bigger and more complicated problems down the road. We would be more than happy to work with you to make sure that you are getting what you want to keep your home safe without doing more than what you need.
Call us today for your roof inspection at 904-342-0211 or email your request to office@topgunroofing.net.
Repair Your Roof the Right Way
Residential and Commercial
Wind damaged shingles or tiles
Sealoflex low-slope systems
Roof ventilation
Roof flashing
Leak repair
Plumbing boot leaks
There Will Be No Mess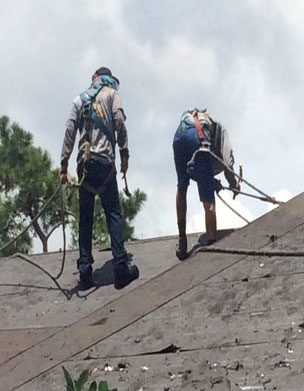 There will be no unsightly mess during your roof job. Your yard will not be filled with garbage or trash trucks for clean-up. Top Gun Roofing's roll-off trash distribution lessens the worry of possible driveway cracks, keeps the job site cleaner and is quickly removed. In addition, all plants and shrubs near the house are covered with tarps to avoid roof debris.